Ridewell Lift Axles or Liftable Suspensions
Lift Axle Guide
Complete Liftable systems shipped directly to your door step
Liftable Suspensions Ridewell offers a complete line of Liftable Suspensions to meet your every need. Choose from self-steer and non-steer designs.
Request Pricing and Availability for a Lift Axle Truck!
  [Lift Axle Contact and Price Request Form]
Ridewell RCA-215 Flex-MountTM    22,500 lb capacity
New, more efficient design increases strength and reduces weight!
Features:
-10.25″ total travel, up to 7″ of lift
-Durable & lightweight FiberTech bushing
-Secure axle connection without U-bolts
-Axle alignment – 3/8″ at each hanger
-Accepts axle drop up to 8″
-Wide beam spacing reduces axle stresses
-Easily adjusts to various frame widths & ride heights
6060047   20K 6″ Drop Center Pusher, 10 hole hub-piloted
6060048   20K 8″ Drop Center Pusher, 10 hole hub-piloted
6060067   Straight Axle Tag, 10 hole hub-piloted
RUL 245 "Bantamweight"  13,200 non-steerable

Features:
For 5″ round axles, straight or drop
2150010   13.2K Pusher Axle
2150015   13.2K Tag Axle
RSS-232 Steerable Lift Axles
Ridewell's Lightweight Auxiliary Axle Suspension System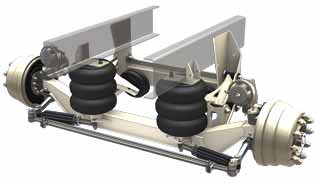 All steel construction
Easily adjusts to various frame widths & ride heights
30 degree wheel cut – Best in Class
2328010    8K Steerable
2320015     13.2K 11.5″-15″ Ride Ht. 10 Hole hub-piloted
2320020    20K  10 Hole hub-piloted
Use our Contact Form to find out if a Link Lift Axle (made by Link Chassis Suspensions) is available for your truck
---