Need help determining what shock part numbers that you need or need a quote, please use our Shock Request Form:
1- Find the Monroe shocks for your vehicle by using this complete application guide on Monroe's web site:
Monroe Shock OEM Interchange Monroe Shock Selector
2- Find your Monroe shock number or numbers and enter your number in the search box below (use the contact form below for shock numbers that don't come up in our catalog):
| | | |
| --- | --- | --- |
| Enter Monroe, OEM, or other mfg shock # | | |
3- Click the Monroe truck shock absorber number to Add to Cart- Most Monroe shock absorbers are shipped the same day of the order.
Use our contact form to find out pricing of shocks not listed: CONTACT FORM
We also offer High Quality Gas Magnum Shocks for Heavy Duty Trucks at great prices. Enter the OEM number in the box above.
Offering Gas Magnum® Truck Shock Absorbers

Special Monroe RV Shocks (Gas Magnum) available for most motorhomes! Help improve your vacation trip.


Monroe® Gas Magnum® truck or RV shocks are designed for mid to full size, hard working pick-up trucks and vans. These units provide firm control without a harsh ride. With up to twice the fluid capacity of standard 1" bore shocks, Monroe Gas Magnum truck shocks work more efficiently with less effort
Offering Monroe Reflex® Shocks
Maximum safety through greater stability and control without sacrificing comfort.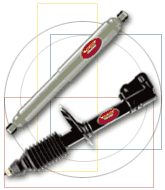 For all vehicles, especially those with high centers of gravity such as mini-vans, SUVs and light trucks, Monroe Reflex® shocks and struts enhance stability by reducing body roll rate in evasive maneuvers and tight turns, and minimizing brake dive during sudden stops. For passenger cars, Reflex shocks and struts keep the tires on the road through curves and rough terrain, providing greater control.
Shock Replacement

Replace Shock absorbers when there is evidence of:
Ride Deterioration
Sagging Taper Leaf Springs
Excess Vibration
Broken or Torn Air Springs
Premature wear on cab, electrical, and cooling components
Uneven Tire Wear
Measuring Length
Note A: Compressed and extended lengths are measured from the center of loops and/or from the stem shoulder.
Note B: When measuring from the brackets on a vehicle, allow 5/8" for standard stem end and 7/8" for each large stem end.