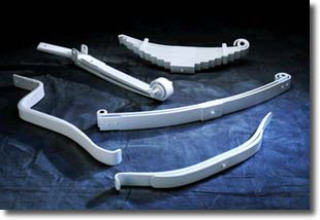 We carry a full line of leaf springs for all medium and large trucks and semi-trailer tractors. We have camelback Mack leaf springs, front tapered leaf springs, and air ride suspension Z springs. Most truck springs that we offer are made in the USA to OEM specifications and standards.
We ship our leaf springs anywhere by UPS, Fedex, truck freight, and ocean freight (acutal shipping method is determined by weight, destination, and quantity). We offer quantity discounts and free shipping on large order quantities.
We can supply a complete package including leaf springs, U-bolts, and spring pins/bolts to replace your worn leaf springs with excellent quality leaf springs. E-mail us or give us a call to place your order.
ANY QUESTIONS, PLEASE USE OUR [Leaf Spring Request Form]