Utility Trailer Suspensions and Trailer Suspension Parts
We offer these utility trailer suspensions.  These hanger suspension kits come with the hangers for single axle, tandem axle, and tri-axle small utility trailers.
Common Trailer U-bolts       Trailer Suspensions                  Trailer Springs
Trailer Suspension Parts (Bolts, Hangers, Side Bars, U-bolt Plates, Equalizers)
Click part number to find out pricing, shipping costs, and to order online.
These Utility Trailer Suspensions and trailer parts can be shipped anywhere in the United States by UPS
Single Axle Suspension (Eye to Eye) with 1 3/4″ Springs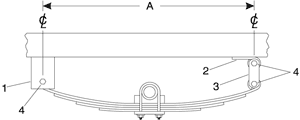 | | | | |
| --- | --- | --- | --- |
| Key Item | Quantity | Part No. | Description |
| KIT  | 1 | HK-101  | Kit (Includes the following items below):  |
| 1 | 2 | H-102  | Hanger  |
| 2 | 2 | H-110  | Hanger  |
| 3 | 4 | S-103  | Side Bar  |
| 4 | 6 | B-101  | Bolt  |
 Single Axle Suspension (Eye to Slipper) with 1 3/4″ Springs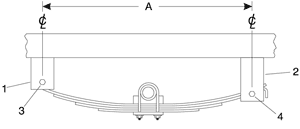 | | | | |
| --- | --- | --- | --- |
| Key Item | Quantity | Part No. | Description |
| KIT  | 1 | HK-103  | Kit (Includes the following items below):  |
| 1 | 2 | H-114  | Hanger  |
| 2 | 2 | H-115  | Hanger  |
| 3 | 2 | B-101 | Bolt  |
| 4 | 2 | B-105  | Bolt  |
Single Axle Suspension (Eye to Eye) with 2″ Springs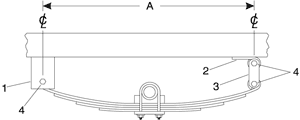 | | | | |
| --- | --- | --- | --- |
| Key Item | Quantity | Part No. | Description |
| KIT  | 1 | HK-102  | Kit (Includes the following items below):  |
| 1 | 2 | H-101D  | Hanger  |
| 2 | 2 | H-108  | Hanger  |
| 3 | 4 | S-106  | Side Bar  |
| 4 | 6 | B-102  | Bolt  |
Single Axle Suspension (Eye to Slipper) with 2″ Springs (Type 1)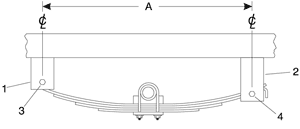 | | | | |
| --- | --- | --- | --- |
| Key Item | Quantity | Part No. | Description |
| KIT  | 1 | HK-104 | Kit (Includes the following items below):  |
| 1 | 2 | H-101D  | Hanger  |
| 2 | 2 | H-103  | Hanger  |
| 3 | 2 | B-102  | Bolt  |
| 4 | 2 | B-100  | Bolt  |
Single Axle Suspension (Eye to Slipper) with 2″ Springs (Type 2)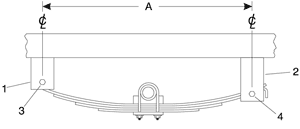 | | | | |
| --- | --- | --- | --- |
| Key Item | Quantity | Part No. | Description |
| KIT  | 1 | HK-111  | Kit (Includes the following items below):  |
| 1 | 2 | H-116   | Hanger  |
| 2 | 2 | H-118   | Hanger  |
| 3 | 2 | B-110  | Bolt  |
| 4 | 2 | B-110  | Bolt  |
Tandem Axle Suspension (Eye to Eye) with 1 3/4″ Springs

Key Item

Quantity

Part No.

Description

KIT 

1

HK-105

 

Kit (Includes the following items below): 

1

4

H-102 

Hanger 

2

2

H-114 

Hanger 

2

8

S-102 

Side Bar 

4

2

E-103 

Equalizer 

5

14

B-101 

Bolt 
Tandem Axle Suspension (Eye to Eye) with 2″ Springs

| | | | |
| --- | --- | --- | --- |
| Key Item | Quantity | Part No. | Description |
| KIT  | 1 | HK-107  | Kit (Includes the following items below):  |
| 1 | 2 | H-101D  | Hanger  |
| 2 | 2 | H-108  | Hanger  |
| 3 | 2 | H-105D  | Hanger  |
| 4 | 8 | S-106  | Side Bar  |
| 5 | 2 | E-102  | Equalizer  |
| 6 | 12 | B-102  | Bolt  |
| 7 | 2 | B-103  | Bolt  |
Tandem Axle Suspension (Eye to Slipper) with 2″ Springs

Tri-Axle Suspension (Eye to Eye) with 1 3/4″ Springs
| | | | |
| --- | --- | --- | --- |
| Key Item | Quantity | Part No. | Description |
| KIT  | 1 | HK-106  | Kit (Includes the following items below):  |
| 1 | 4 | H-102  | Hanger  |
| 2 | 4 | H-114  | Hanger  |
| 3 | 16 | S-102  | Side Bar  |
| 4 | 4 | E-103  | Equalizer  |
| 5 | 24 | B-101  | Bolt  |
Tri-Axle Suspension (Eye to Eye) with 2″ Springs

| | | | |
| --- | --- | --- | --- |
| Key Item | Quantity | Part No. | Description |
| KIT  | 1 | HK-108  | Kit (Includes the following items below):  |
| 1 | 2 | H-101D  | Hanger  |
| 2 | 2 | H-108  | Hanger  |
| 3 | 4 | H-105D  | Hanger  |
| 4 | 12 | S-106  | Side Bar  |
| 5 | 4 | E-102  | Equalizer  |
| 6 | 18 | B-102  | Bolt  |
| 7 | 4 | B-103  | Bolt  |
Tri-Axle Suspension (Eye to Slipper) with 2″ Springs (Type 1)

Tri-Axle Suspension (Eye to Slipper) with 2″ Springs (Type 2)