Add additional load handling capability with Timbren kits, Leaf Spring Helper kits, Air Lift kits and Roadmaster kits. Smooth out your ride with Monroe shock absorbers.
Leaf Spring Helper Kits – Heavy duty leaf spring kits that come with helper springs, brakets, and u-bolts to install the kits.
Timbren SES Kits – Easy to install rubber helper springs that guaranteed for the life of the vehicle.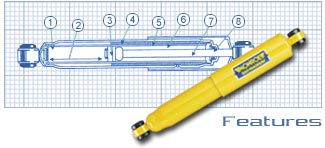 Monroe Shock Absorbers – Full of Monore gas magnum shock absorbers for motorhome, light trucks, and heavy semi-trucks and trailers.
Roadmaster Active Suspension Kits – Improve load handling, ride quality, and stability with your vehicle by adding a Roadmaster Active Suspension to your truck or van.
Air Lift Kits – Adjustable air lift kit that use air springs to provide additional load support and stability for you van, truck, or SUV.