Reyco Granning R Series Air Ride Suspensions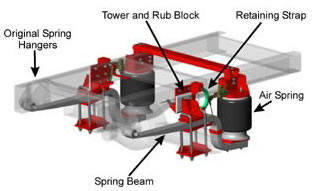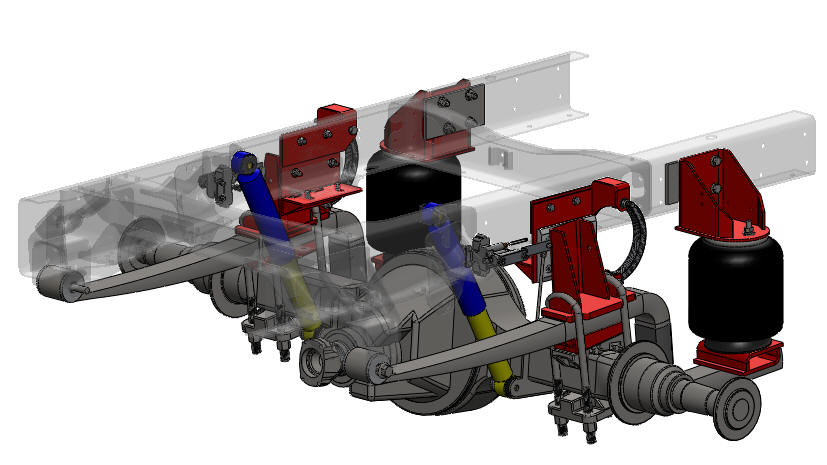 Reyco Granning Suspensions (Air Ride kits) can be shipped anywhere in North America by common carrier
We carry replacement parts for Reyco Granning Suspensions. Please call for any part not listed.
Common Replacement Part List
Part No
Description

5188

Granning Compressor – 1/3 HP 12VDC (EC:GCOM)

5608

Reyco Granning Height Control Valve (HCV) Haldex CR

8892

Granning Pressure Switch (EC:1Z1)

707413-01

Reyco Granning Valve Kneeler 12VDC 3 Way

704916-01

Reyco Granning Heated Auto Drain Vlv Brk Act
Features:
Fast, low cost installation: Few chassis modifications are required in the installation of Reyco Granning AirGlide® systems. Even the OEM chassis manufacturer's axle clamp group and front spring hanger are reused. So, vehicle manufacturers report many advantages, including:
The time required to install an AirGlide® is about one-half of that required to install a competitive air suspension system.

Elimination of axle misalignment caused by altering the position of the axle clamp assembly during suspension system installation.

Elimination of axle weaknesses associated with changes in the metallurgical structure of the axle material during the welding operations required to install most competitive air suspension systems.

The shock absorbers provided with the chassis may be used to further reduce the cost of installation.

The rub block and tower design eliminates the need for track bars as they limit lateral float of the axle. The rub block provides a self-cleaning, no-maintenance wear surface for the axle tower-to-chassis frame contact.

A polyester retaining strap prevents over-extension of the shocks and air springs.

NOTE: AirGlide® suspension models are engineered for application with specific chassis. Each suspension is shipped with assembly instructions and mounting hole template to ensure rapid, easy installation.
Maintains designed vehicle ride height: AirGlide® suspensions ensure front-to-rear vehicle ride height consistency regardless of the distribution of the load within the vehicle. A standard height control valve directs appropriate pressure to the air springs.
Superior roll stiffness: Unlike competitive suspension designs which weaken with age and wear, an AirGlide® maintains roll stiffness. This advantage is due to two unique Reyco Granning suspension design features:
First, AirGlide's® time-proven, spring-beam suspension design serves a dual function. It provides vertical axle float as it helps to absorb shock loads.
In addition, because the two spring beams are solidly attached to the axle, they function as counterbending beams to limit the extent the chassis may lean.
Consistent air springs: The time-prove, step-down, spring-beam design is used extensively in heavy truck suspensions. For light and medium truck air suspension systems, it facilitates the use of the original mechanical suspension mounting points to reduce the cost of installation. The front spring hanger is used to attach the front end of the AirGlide® suspension.
Proven spring-beam design: AirGlide's® air springs provide constant spring characteristics. And the simplicity of design of the air spring pedestal promotes easy installation and service.



Applications:
Click Part Number to obtain pricing and to order online.
Transportmaster Models
| | | | | |
| --- | --- | --- | --- | --- |
| Base unit | Make | Manual/Spec Sheet | Years | Model |
| RD975C | Chev/GM | Manual | 2011-2019 | Chevy Silverado, GMC Sierra 3500 Cab Chassis, DRW ; Varying Load (Box Truck) |
| RD975CLP | Chev/GM | Manual | 2011-2019 | Chevy Silverado, GMC Sierra 3500 Cab Chassis, Low Profile; Constant Load (Ambulance) |
| RD866C | Chev/GM | Manual | 2011-2021 | GMC 3500 SAVANA CUTAWAY |
| RD960C | Chev/GM | Manual | 2011-2021 | GMC 4500 SAVANA CUTAWAY |
| | | | | |
| RD975D13 | Dodge | Manual | 2013-2020 | Dodge, 3500 Cab Chassis, DRW |
| RD1200DA13 | Dodge | Manual | 2013-2020 | Dodge, Sterling 4500 Cab Chassis, DRW, AMBULANCE ONLY |
| RD1350D | Dodge | Manual | 2011-2012 | Dodge, 4500/5500 Cab Chassis, DRW |
| | | | | |
| RD800F | Ford | Manual | 2011-2021 | E350 Econoline Cutaway |
| RD950F | Ford | Manual | 2011-2021 | E-450 Econoline Cutaway |
| RD975F8 | Ford | Manual | 2008-2016 | Ford F-350 Cab Chassis, DRW |
| RD1004F | Ford | Manual | 2017-2021 | Ford F-350 Cab Chassis, DRW |
| RD11KDF8 | Ford | Manual | 2011-2016 | Ford F-450 Cab Chassis, DRW |
| RD1288F | Ford | Manual | 2017-2021 | Ford F-450 Cab Chassis, DRW |
| RD1370F8 | Ford | Manual | 2011-2016 | Ford F-550 Cab Chassis, DRW |
| RD1470FLC | Ford | Manual | 2017-2021 | Ford F-550 Cab Chassis, DRW Low Crossmember – 1 Inch higher than the OEM frame rail |