Link Cab Air Suspensions  – Cabmate Suspensions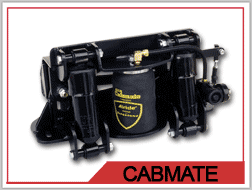 The Cabmate® is a cab air suspension system for Class 7 and 8 trucks. It replaces the solid rear cab mounts with a cushion of air accomplished with air springs, shock absorbers, air leveling valves and strategically designed brackets for controlling cab movement. The Cabmate absorbs the road shock and vibration transmitted through the frame and solid cab mounts, thereby producing a quieter and smoother ride. Some applications require front cab mounts for better ride and to level the cab.
With a Cabmate installed on your truck, you will notice a reduction in road shock and backslap, annoying vibrations, back and kidney stress and cab maintenance. Cabmate improves cab environment for driver alertness and safety and increases the truck's resale value.
Link also provides custom designed products for specialized applications such as Terminal Tractors, Extended Length Sleepers, Agricultural and Military Vehicles.
NOTE: Check units annually for worn shocks, air springs and control rods.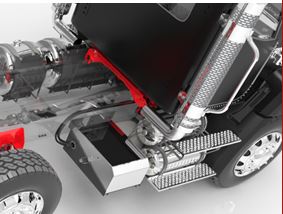 Link Cabmate Spare Replacement Parts
 Benefits of the Cabmate include:
 Reduction in road shock and backslap

 Reduction in annoying vibrations

 Reduction in kidney stress

 Reduction in cab maintenance

 Improvement in cab environment for driver alertness and safety
Truck Model / Cabmate Model      CLICK THE PART NUMBER FOR PRICING AND TO ORDER ONLINE

Application Guide

OEM
Series/Model
Cabmate No.
Link Part No.
Manual
FORD
 CONVENTIONALS

• 8000, 9000 Louisville Series

FN89-A

2165B000

Manual

OEM
Series/Model
Cabmate No.
Link Part No.
Manual
 FREIGHTLINER

• Century Class Series

N/A

N/A

 CONVENTIONALS

• FLD Sleepercab Models

N/A

N/A

• FLC120-Built before 4/88

FRTC120-A

2240A000

Manual

•FLD112/112SD

FRTE120-A

2251A000

Manual

•FLD120/120SD-Built after 4/88

FRTE120-A

2251A000

Manual

• FL50/60/70 Business Class (with air system)

FRT106HD-A

2266E000

Manual

• FL80/106 Business Class

FRT106HD-A

2266E000

Manual

• FL112 Business Class Day Cab

FRT112DC

2226A000

Manual

• FL60/70/80/106 Business Class Crew Cab

FRT153BC-A




2267D000




Manual

• M2 Series with length of 106″ and
cab height to 160″

FRTM2106-160

22312000
Manual
CABOVERS

Cabmate application determined by truck manufacture date, frame rail height, or spacing of rear mounts.

• FLA, 1984 and newer, 9 1/8" rails

FRT285

22050000

Manual

• FLA, 1984 and newer, 10 1/8" rails

FRT285-A

2245A000

Manual

• FLA, cabs with 50" mount spacing

FRT50-2P-C

2255A000

Manual

• FLB Series

FRT46-2P-B

2262C000

Manual

SLEEPERS

• 64" Able Body Sleeper

FRTAS64-A

2912E000

Manual

OEM
Series/Model
Cabmate No.
Link Part No.
Manual
 GMC

• General, Bison Series (1979-1990)

GMC816

23650000

Manual

 CONVENTIONALS

• Topkick, Kodiak Series-1990-2002

GMC104TK

23850000

Manual

• C Series cabs 1990-2002

GMC104TK

23850000

Manual

• T Series cabs• 2003 and later GM 4500 / 5500 crew cab

2351A000




Manual

OEM
Series/Model
Cabmate No.
Link Part No.
Manual
INTERNATIONAL
CONVENTIONALS

• 9000 Series with sleepers

OE-Built 2/97-3/99

3507630C91

2479-F000

OE-Built 3/99-10/99

3507630C92

2479-F000

OE-Built 10/99-Present

3507630C94/

3507630C95

2479-F000

• 9100/9200/9900 Series Day Cabs

OE-Built since 3/97

3501579C92

2454D000

Manual

Complete Retrofit Kit

2454-A000 (ND92-A)

• 9300/9400/9900(SS) Series Day Cabs

2476B000

 

Manual

Complete Retrofit Kit

(IHC93-B)

 

• 8100 Series Day Cabs

Factory installed 12/98-Present

3533085C91

2483-A000

• 8000 Series Day Cabs

(NAV80)

2482A000

Manual

• 2000 Series

Rear Mount number

476979C1 (NAV80)

2482A000

Manual

• 5000 Series

OE Application/Retrofit Kit

3518110C91 (NP50-A)

2478C000

Manual

• 4000 Series

N/A

N/A

• 4300 Series

N/A

N/A

(IHC43)

CABOVERS

Link has supplied several Cabmate kits for International COE tractors, both as Original Equipment and Retrofit Kits.

• OE-9800 Series

3516148C1

2492-B000

3516149C1

2492-C000

3516149C2

2492-E000

3516150C1

2492-D000

• OE-9700 Series -Previous Unit

204974C91

2491-0692

204975C91

2491-0693

2040976C1

2491-1000

• Retrofit Kit, 9800, 9700, 9670

2492A000

Manual

SLEEPERS

• Bentz Sleepers

48" and 60" -Built after 1/93

(IHS4860)

2916-A000

OEM
Series/Model
Cabmate No.
Link Part No.
Manual
KENWORTH
CONVENTIONALS

• T600, T800, W900 Cab only

KWB689-C

25332012

Manual

• W900-Built before 1982

KWA900

2515A000

M

anual

• C500B Series

KWB500

25350000

• T400/T450-Built after 6/92

KWB689-C

25332012

Manual

• T300 Series

N/A

N/A

CABOVERS

• K100

Complete Retrofit Kit

KW1102-B

2500A000

Manual

OE Application

KWE90112-B

2546-A000

SLEEPERS

• 42" and 60"

OE Application/Retrofit Kit

KWS60-A-16

2906D000

 

Manual

KWS60-A

2906A000

Manual

OEM
Series/Model
Cabmate No.
Link Part No.
Manual
MACK
CONVENTIONALS

Most Mack trucks are available with the Mack Proprietary system. These proprietary models include:Vision Series CH Series Midliner Series CS Series DM/DMM Series. Link Cabmate supplies two retrofit kits for Mack Trucks. These are packaged as complete kits under one part number each.

• R600 Series

MCR600

26100000

Manual

• RS Series-Superliners

MCRS600

26200000

Manual

OEM
Series/Model
Cabmate No.
Link Part No.
Manual
PETERBILT
CONVENTIONALS

• Trucks with Unibilt Sleepers

N/A

N/A

• 330 Model

PBC379-A

2840C000

Manual

• 357, 375, 376, 377, 378 Conventinals (does not fit trucks with Able Body sleepers)

OE Application/Retrofit Kit

PBC377-A

2835C000

Manual

• 335 Conventional

2840G000

Manual

• 359 and 379 Daycabs OE Application/Retrofit Kit

PBC379-A

2840C000

Manual

SLEEPERS

• 63" Peterbilt Sleeper

PBS63-A

2901A000




Manual

SLEEPER SUSPENSIONS

• Fits most custom built sleepers.

CS120

2908A000

Manual

CS140

2908B000

Manual

• Fits most custom built sleepers, to be used in conjunction with another cab suspension, like CS120 or CS140

CS160

2909A000

Manual

OEM
Series/Model
Cabmate No.
Link Part No.
Manual
STERLING/FORD
CONVENTIONALS

• Silver Star Series

N/A

N/A

• 7501 Model

FH101

2170B000

Manual

• 8500 Series

   -8501 Model

FH101

2170B000

Manual

   -8511 Model

FH1322-A

2175B000

Manual

   -8513 Model

FH1322-A

2175B000

Manual

   -8522 Model

FH1322-A

2175B000

Manual

• 9500 Series

   -9501 Model

FH101

2170B000

Manual

   -9511 Model

FH1322-A

2175B000

Manual

   -9513 Model

FH1322-A

2175B000

Manual

   -9522 Model

FH1322-A

2175B000

Manual

CABOVERS

• Cargo Series

N/A

N/A

SLEEPERS

• 48" & 60 Able Body Sleeper

FAS60-AS

2926-B000

OEM
Series/Model
Cabmate No.
Link Part No.
Manual
VOLVO
 CONVENTIONALS

Most Volvo trucks are available with the Volvo Proprietary system. These Proprietary models include: VNM, VNL Daycab and Sleeper Cabs, 660, 770 Series, WX, and Autocar Models

• WG Models

WWG112-A

29610000

Manual

OEM
Series/Model
Cabmate No.
Link Part No.
Manual
WESTERN STAR

• Constellation Series

N/A

N/A

  CONVENTIONALS

• 4000 Series Daycabs

WSC4000

2970A000

 

Manual

• 5000 Series

WSC4000

2970A000

Manual