Leaf Spring Helper Kits (Heavy Duty)

Heavy Duty Helper Springs are designed to add up to 4200 lbs.* of additional load handling capability without affecting ride quality when unloaded. High strength, cast iron, adjustable brackets allow for custom tuning the helper system to your load handling requirements. All Heavy Duty Helper Kits with overload springs have been designed to be a bolt-on product with no welding or drilling required. Manufactured by Dayton Parts in the USA of the highest quality American steel for superior durability.
• Bolt on installation, no welding or drilling required.• Truck Helper springs do not affect ride quality when vehicle is unloaded.
• High strength cast iron brackets used throughout.
• Adjustable brackets allow for "custom tuning" the helper system.
• Overload springs applications for most domestic trucks, vans and utility vehicles.
• Does not depend on the original suspension to control additional vehicle loading.
* Never exceed the manufacturer's suggested GVW.
• Manufactured by Dayton Parts from American made materials and components.
• Long life insulator pads virtually eliminate noise.
Leaf Spring Heavy Duty Helper Kit Types
TYPE 1
Rear Kits w/Adjustable Brackets
TYPE 2
Front Kits
TYPE 3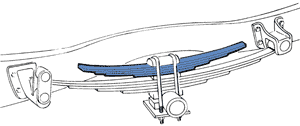 Rear Kits, OEM Replacement
(Reuse OEM Brackets, not included in kit)
TYPE 4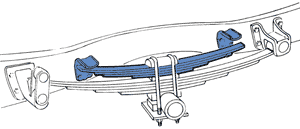 Rear Kits w/OEM Style Fixed Brackets
TYPE 5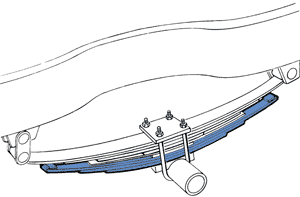 Van Kits, Rear
TYPE 6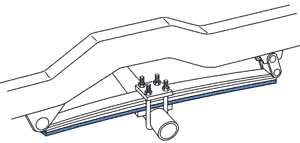 Tapered Extra Leaf Kits
* Illustrations shown are typical examples.
Any given kit (helper springs) may differ in appearance from those shown.