SPECIAL AFTERMARKET EXTRA HEAVY DUTY LEAF SPRINGS (heavier than OEM springs)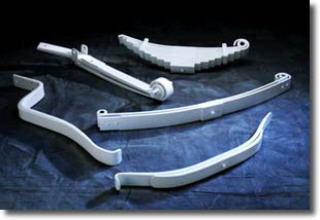 Additional Load Handling Capability
Improves Handling & Ride quality
Maintenance Free
Increased durability and safety
Ideal for Commercial Trucks and Vans
These special heavy duty springs are made to high quality standards and made in the USA  (Made by Dayton Parts, Inc.)  

ANY QUESTIONS, PLEASE USE OUR    [Leaf Spring Request Form]
For longer U-bolts, shackle bolts, and shackles, please click the links below:  
     U-bolts           Shackles              Shackle Bolts       Ford Hangers
Complete Leaf Spring Application Guide
Click the heavy duty leaf spring part number or the standard spring number to find pricing, shipping costs, and to order online.  Most Leaf Springs can be shipped out the same day of the order.  We can also add leaves and modify leaf springs to meet your specific needs.  Please use our inquiry form.
 APPLICATIONS:
 

Chevrolet/GMC

                                                          

ASTRO AND SAFARI LEAF SPRINGS

Model Year(s)

Application

Spring No.

Std/Hvy Duty

Width

S.E. Length (A)

L.E. Length (B)

No. of Leaves

Arch (C)

Pack Thk. (D)

Spring Capty. at Pad (lbs)

1995-2005

Astro and Safari – Rear

22-1195

Std

2.5

26

28

4

3-1/8

1-9/16

1,410

1995-2005

Astro and Safari – Rear

22-1195HD

Hvy

2.5

26

28

4

3-1/8

1-15/16

1,700

1995-2005

Astro and Safari – Rear

22-1195XHD

 

Extra Hvy

2.5

26

28

5

3-1/8

2-9/16

2,100

                                                          

CHEVROLET AND GMC PICKUP LEAF SPRINGS

Model Year(s)

Application

Spring No.

Std/Hvy Duty

Width

S.E. Length (A)

L.E. Length (B)

No. of Leaves

Arch (C)

Pack Thk. (D)

Spring Capty. at Pad (lbs)

1973-1987

Chevrolet/GMC K – Series; Blazer, Jimmy, and Suburban 4WD; Front Springs
22-402

Std

2.75

23 1/2

23 1/2

3

1-1/8

1-7/16

1,400

1973-1987

Chevrolet/GMC K – Series; Blazer, Jimmy, and Suburban 4WD; Front Springs
22-402HD

Hvy

2.75

23 1/2

23 1/2

4

1-1/8

1-15/16

1,900

1969-1972

Chevrolet/GMC C and K – Series; Rear

22-419

Std

2.5

26   

26   

7

6-5/8

2-13/16

3,390

1969-1972

Chevrolet/GMC C and K – Series; Rear

22-419HD

Hvy

2.5

26   

26   

9

6-5/8

3-5/8

4,100

1973-1991

Chevrolet/GMC C and K – Series; Rear

22-547

Std

2.5

26

30

9

6-1/4

3-3/16

2,600

1973-1991

Chevrolet/GMC C and K – Series; Rear

22-547HD

Hvy

2.5

26

30

9

5-1/2

3-5/8

3,500

1981-1991

Chevrolet/GMC C and K – Series; Rear

22-617

Std

2.5

26

30

10

4

4-1/16

3,955

1981-1991

Chevrolet/GMC C and K – Series; Rear

22-617HD

Hvy

2.5

26

30

10

4

4-3/8

4,650

1988-2000

Chevrolet/GMC C and K – Series; Rear  9/16″ Frt Bolt

22-797

Std

2.5

32

32

6

6-1/2

2-7/8

2,235

1988-2000

Chevrolet/GMC C and K – Series; Rear  9/16″ Frt Bolt

22-797HD

Hvy

2.5

32

32

6

6-1/2

3-1/4

3,000

1999-2010

Chevrolet/GMC Silverado & Sierra 1500 to 3500 except 2011-12 2500HD and 3500HD

22-1269

Std

2.5

32

32

5

6-1/2

2-3/4

2,100

1999-2010

Chevrolet/GMC Silverado & Sierra 1500 to 3500 except 2011-12 2500HD and 3500HD

22-1269HD

Hvy

2.5

32

32

8

5-3/4

3-13/16

3,300

1999-2010

Chevrolet/GMC Silverado & Sierra 1500 to 3500 except 2011-12 2500HD and 3500HD

22-1289HD

Hvy

2.5

32

32

6

6-1/2

3-1/4

3,200

1999-2010

Chevrolet/GMC Silverado & Sierra 1500 to 3500 except 2011-12 2500HD and 3500HD

22-1289XHD

Hvy

2.5

32

32

7

6

3-11/16

3,600

2011-2012

Chevrolet/GMC Silverado & Sierra 2500HD

22-1649

Std

3

29

34

5

6-3/8

3-1/16

2,100

2011-2012

Chevrolet/GMC Silverado & Sierra 2500HD and 3500HD Piokup

22-1649HD

Hvy

3

29

34

6

6-3/8

3-1/4

3,300

2011-2012

Chevrolet/GMC 3500HD Chassis Cab only 

22-1653

Std

3

32

32

7

3-5/8

3-15/16

4,100

2011-2012

Chevrolet/GMC 3500HD Chassis Cab only

22-1653HD

Hvy

3

32

32

9

3-5/8

4-3/4

5,700

1991-2002

Chevrolet/GMC C3500HD; Rear

22-1009

Std

3   

28

28

5

4-5/8

2-15/16

3,345

1991-2002

Chevrolet/GMC C3500HD; Rear

22-1009HD

Hvy

3   

28

28

8

4-5/8

4

5,000

                                                          

CHEVROLET AND GMC SUV LEAF SPRINGS

Model Year(s)

Application

Spring No.

Std/Hvy Duty

Width

S.E. Length (A)

L.E. Length (B)

No. of Leaves

Arch (C)

Pack Thk. (D)

Spring Capty. at Pad (lbs)

1982-1994

Chevrolet/GMC             S – Series; S10 Blazer and S15 Jimmy; 91-94 Olds Bravada Rear

22-687

Std

2.5

26

28

4

7-1/2

1-1/2

1,350

1982-1994

Chevrolet/GMC             S – Series; S10 Blazer and S15 Jimmy; 91-94 Olds Bravada Rear

22-687HD

Hvy

2.5

26

28

5

7

1-7/8

1,750

1992-1999

Chevrolet/GMC Suburban 1500 and 2500; Rear

22-907

Std

2.5

30

30

6

 5-3/4

3-7/16

2,760

1992-1999

Chevrolet/GMC Suburban 1500 and 2500; Rear

22-907HD

Hvy

2.5

30

30

8

 5-3/4

3-11/16

3,760

2000-2013

Suburban and Yukon XL 2500 2WD & 4WD

22-1277

Std

2.5

30

30

5

 5-1/2

2-15/16

2,500

2000-2013

Suburban and Yukon XL 2500 2WD & 4WD

22-1277MHD

Hvy

2.5

30

30

7

 4-1/2

3-1/4

3,100

2000-2013

Suburban and Yukon XL 2500 2WD & 4WD

22-1277HD

Extra Hvy

2.5

30

30

8

 5-1/2

3-11/16

3,500

2004-2013

Colorado and Canyon 2Wd & 4WD

22-1419

Std

2.5

26

26

3/1

 7-1/4

1-7/16

1,200

2004-2013

Colorado and Canyon 2WD & 4WD

22-1419HD

Hvy

2.5

26

26

4/1

 8

2

1,600

                                                          

CHEVROLET AND GMC G SERIES VAN LEAF SPRINGS

Model Year(s)

Application

Spring No.

Std/Hvy Duty

Width

S.E. Length (A)

L.E. Length (B)

No. of Leaves

Arch (C)

Pack Thk. (D)

Spring Capty. at Pad (lbs)

1973-1991

Chevrolet/GMC G – Series; G30/3500 with U-bolts down

22-597

Std

2.5

28

28

8

7-7/8

3-1/8

3,600

1973-1991

Chevrolet/GMC G – Series; G30/3500 with U-bolts down

22-597HD

Hvy

2.5

28

28

8

6-3/4

3-9/16

4,400

1992-1995

Chevrolet/GMC G – Series; G10/1500 and G20/G2500

22-1029

Std

2.25

26

28

5

4-1/2

2-3/8

2,190

1992-1995

Chevrolet/GMC G – Series; G10/1500 and G20/G2500

22-1029HD

Hvy

2.25

26

28

6

 4-1/2

2-3/8

2,200

1996-2016

Chevrolet/GMC G – Series;  G1500, G2500, and G3500

22-1209

Std

2.5

30

30

9

3-11/16

4-13/16

3,710

1996-2016

Chevrolet/GMC G – Series;  G1500, G2500, and G3500

22-1209HD

Hvy

2.5

30

30

10

 4-1/2

5-3/8

4,600

                                                          

CHEVROLET AND GMC P SERIES MOTORHOME AND STEP VAN LEAF SPRINGS

Model Year(s)

Application

Spring No.

Std/Hvy Duty

Width

S.E. Length (A)

L.E. Length (B)

No. of Leaves

Arch (C)

Pack Thk. (D)

Spring Capty. at Pad (lbs)

1985-1999

Chevrolet/GMC P – Series; Front Springs
22-442

Std

2.5

29

29

9

7-1/8

3-1/8

2,190

1985-1999

Chevrolet/GMC P – Series; Front Springs
22-442HD

Hvy

2.5

29

29

9

6-5/8

3-5/8

2,760

1969-1999

Chevrolet/GMC P – Series; Rear

22-419

Std

2.5

26

26

7

6-5/8

2-13/16

3,390

1969-1999

Chevrolet/GMC P – Series; Rear

22-419HD

Hvy

2.5

26

26

9

6-5/8

3-5/8

4,100

1973-1991

Chevrolet/GMC P – Series; Rear  use 5/8″ spring bolts

22-603

Std

2.5

26

26

11

4-1/4

4-3/8

3,760

1973-1991

Chevrolet/GMC P – Series; Rear  use 5/8″ spring bolts

22-603HD

Hvy

2.5

26

26

11

4-1/4

5

4,500

   Dodge Trucks
                                                          

DODGE RAM LEAF SPRINGS

Model Year(s)

Application

Spring No.

Std/Hvy Duty

Width

S.E. Length (A)

L.E. Length (B)

No. of Leaves

Arch (C)

Pack Thk. (D)

Spring Capty. at Pad (lbs)

1972-1991

W – Series; Front Springs

;

These springs use 1/2″ diameter spring bolts 

(W100, W150, W200, W250, W300, W350)

34-730

Std

2.5

24

24

6

1-7/8

2-3/16

 1,900

1972-1991

W – Series; Front Springs

;

These springs use 1/2″ diameter spring bolts 

(W100, W150, W200, W250, W300, W350)

34-730HD

Hvy

2.5

24

24

8

1-7/8

2-7/8

2,500

1992-1993

W – Series; Front Springs

;

These springs use 5/8″ diameter front spring bolts and 9/16″ rear spring bolts 

(W100, W150, W200, W250, W300, W350)

34-800

Std

2.5

24

24

6

1-13/16

2-1/4

1,800

1992-1993

W – Series; Front Springs

These springs use 5/8″ diameter front spring bolts and 9/16″ rear spring bolts 

(W100, W150, W200, W250, W300, W350)

34-800HD

Hvy

2.5

24

24

8

 

 

2,500

1972-1993

Dodge D and W – Series; Rear (200,250, 300, 350, 400)

34-153

Std

2.5

24

28

7

4-3/4

2-5/8

3,250

1972-1993

Dodge D and W – Series; Rear (200,250, 300, 350, 400)

34-153HD

Hvy

2.5

24

28

9

4

3-5/8

4,000

1994-2001

Dodge Ram – Series 1500 and 2500 less than 8,800 GVW (2WD); Rear

34-1329

Std

2.5

28-1/4

31-3/4

5

6-11/16

2-3/16

2,105

1994-2001

Dodge Ram – Series 1500 and 2500 less than 8,800 GVW (2WD); Rear

34-1329HD

Hvy

2.5

28-1/4

31-3/4

6

6-11/16

2-11/16

2,600

1994-2001

Dodge Ram – Series 1500 and 2500 less than 8,800 GVW (4WD); Rear

34-1339

Std

2.5

27 7/8

32 1/8

5

6-7/16

2-3/16

2,025

1994-2001

Dodge Ram – Series 1500 and 2500 less than 8,800 GVW (4WD); Rear

34-1339HD

Hvy

2.5

27 7/8

32 1/8

6

6-7/16

2-11/16

2,600

1994-2002

Dodge Ram – Series 3500 & 2500 greater than 8,800 GVW 2WD & 4WD; Rear

34-1335

Std

3 

  

28 1/4

31 3/4

3/1

 6-5/16

2-1/16

3,050

1994-2002

Dodge Ram – Series 3500 & 2500 greater than 8,800 GVW 2WD & 4WD; Rear

34-1335HD

Hvy

3 

  

28 1/4

31 3/4

6/1

 6-5/16

2-13/16

3,600

1994-2002

Dodge Ram – Series 3500 & 2500 greater than 8,800 GVW 2WD & 4WD; Rear

34-1345

Std

3 

  

27 7/8

32 1/8

6

4-7/16

2-11/16

2,830

1994-2002

Dodge Ram – Series 3500 & 2500 greater than 8,800 GVW 2WD & 4WD; Rear

34-1345HD

Hvy

3 

  

27 7/8

32 1/8

8

4

3-9/16

4,000

2002-2009

Dodge Ram – Series 1500 (2WD&4WD); Rear  except Mega Cab

34-1451

Std

2.5

31 1/4

32

4

7-1/2

1-15/16

1,700

2002-2009

Dodge Ram – Series 1500 (2WD&4WD); Rear  except Mega Cab

34-1451HD

Hvy

2.5

31 1/4

32

5

7-1/2

2-1/4

2,200

2003-2009

Dodge Ram – Series 2500 & 3500 2WD Rear

34-1459

Std

3 

  

28 1/2

30 1/2

4

5-1/4

3-3/16

2,100

2003-2009

Dodge Ram – Series 2500 & 3500 2WD Rear

34-1459HD

Hvy

3 

  

28 1/2

30 1/2

5

5-1/4

3-5/16

2,750

2003-2009

Dodge Ram – Series 2500 & 3500 4WD Rear

34-1465

Std

3 

  

30 1/2

30 1/2

4

6-1/2

6-1/2

2,800

2003-2009

Dodge Ram – Series 2500 & 3500 4WD Rear

34-1465HD

Hvy

3 

  

30 1/2

30 1/2

5

6-1/2

6-3/4

3,300

2006-2009

Dodge Ram – 1

500, 2500 and 3500 MegaCab Pickup (2WD) and (4WD)
34-1465HD

Hvy

3 

  

30 1/2

30 1/2

5

6-1/2

6-3/4

3,300

2010-2012

Dodge Ram – Series 2500 & 3500 2WD Rear -2010-12 springs use an 18mm front spring bolt

34-1659

Std

3 

  

30 1/2

30 1/2

4

6-15/16

2-5/16

2,800

2010-2012

Dodge Ram – Series 2500 & 3500 2WD Rear -2010-12 springs use an 18mm front spring bolt

34-1659HD

Hvy

3 

  

30 1/2

30 1/2

5

6-15/16

2-13/16

3,300

2010-2013

Dodge Ram – Series 2500 & 3500 4WD Rear -2010-12 springs use an 18mm front spring bolt

34-1633

Std

3 

  

30 1/2

30 1/2

4

 6-9/16

3-1/2 

2,800

2010-2013

Dodge Ram – Series 2500 & 3500 4WD Rear -2010-12 springs use an 18mm front spring bolt

34-1633HD

Hvy

3 

  

30 1/2

30 1/2

5

 6-9/16

 3-13/16

3,300

 2007-2009

3500 Chassis Cab (2WD) and (4WD)  -2009 and earlier springs use a 16mm (5/8″) front spring bolt

34-1563

Std

3 

  

28 1/2

30 1/2

8/PD

 5-1/4

 4-3/4

4,800

2007-2009

3500 Chassis Cab (2WD) and (4WD)  -2009 and earlier springs use a 16mm (5/8″) front spring bolt

34-1563HD

Hvy

3 

  

28 1/2

30 1/2

9/PD

 5-1/4

 5-1/8

5,900

 2010-2013

3500 Chassis Cab (2WD) and (4WD) -2010-13 springs use an 18mm front spring bolt

34-1697

Std

3 

  

28 1/2

30 1/2

8/PD

 5-1/4

 4-3/4

4,800

2010-2013

3500 Chassis Cab (2WD) and (4WD) -2010-13 springs use an 18mm front spring bolt

34-1697HD

Hvy

3 

  

28 1/2

30 1/2

9/PD

 5-1/4

 5-1/8

5,900

2014-2016

3500 Chassis Cab (2WD) and (4WD) -2014-16 springs use an 18mm front spring bolt

34-1747

Std

3

28 1/2

30 1/2

8/2PD

6

4-13/16

3,800

2014-2016

3500 Chassis Cab (2WD) and (4WD) -2014-16 springs use an 18mm front spring bolt

34-1747HD

Hvy

3

28 1/2

30 1/2

9/PD

5-3/4

5-1/8

5,900

 2008-2016

Dodge Chassis Cab  Sterling Bullet

34-1549

Std

3 

  

28 1/2

30 1/2

6

 3-3/4

 4-3/4

5,700

2008-2016

Dodge Chassis Cab  Sterling Bullet

34-1549HD

Hvy

3 

  

28 1/2

30 1/2

9

 3-3/4

 5

7,500

                                                          

DODGE VAN LEAF SPRINGS

Model Year(s)

Application

Spring No.

Std/Hvy Duty

Width

S.E. Length (A)

L.E. Length (B)

No. of Leaves

Arch (C)

Pack Thk. (D)

Spring Capty. at Pad (lbs)

1998-2003

Dodge B – Series; Rear

34-1417

Std

2.5

23

30 1/2

6

5-1/2

2-11/16

2,750

1998-2003

Dodge B – Series; Rear

34-1417HD

Hvy

2.5

23

30 1/2

7

5-1/2

3-1/8

3,950

Ford

                                                          

FORD E SERIES VAN LEAF SPRINGS

Model Year(s)

Application

Spring No.

Std/Hvy Duty

Width

S.E. Length (A)

L.E. Length (B)

No. of Leaves

Arch (C)

Pack Thk. (D)

Spring Capty. at Pad (lbs)

1978-1991

Ford E – Series; Rear E-250 & E-350

43-621

Std

3   

23 13/16

31

6

5-3/4

2-5/16

2,900

1978-1991

Ford E – Series; Rear E-250 & E-350

43-621HD

Hvy

3   

23 13/16

31

8

5-3/4

3-1/16

3,750

1978-1991

Ford E – Series; Rear E-250 & E-350

43-623

Std

3   

23 13/16

31

10

2-1/4

3-5/8

3,235

1978-1991

Ford E – Series; Rear E-250 & E-350

43-623HD

Hvy

3   

23 13/16

31

10

2-1/4

4

4,000

1992-2006

Ford E – Series; Rear      E-150

43-1033

Std

2.5

23 7/8

31

4

6-1/8

1-13/16

1,685

1992-2006

Ford E – Series; Rear      E-150

43-1033HD

Hvy

2.5

23 7/8

31

5

6-1/8

2-3/16

2,250

1992-2016

Ford E – Series; Rear      E-250 & E-350

43-1041

Std

3

23 7/8

31

5

4

2-3/8

2,775

1992-2016

Ford E – Series; Rear      E-250 & E-350

43-1041HD

Hvy

3

23 7/8

31

7

3-1/2

2-15/16

3,750

2007-2015

Ford E – Series; Rear      E-150

43-1041HD

Hvy

3

23 7/8

31

7

3-1/2

2-15/16

3,750

1992-2016

Ford E – Series; Rear  E-250 & E-350

43-1085

Std

3

23 7/8

31

9

1-7/8

3-5/8

3,460

1992-2016

Ford E – Series; Rear  E-250 & E-350

43-1085HD

Hvy

3

23 7/8

31

10

1-7/8

4

4,000

1992-2016

Ford E – Series; Rear E-250 & E-350

43-1085SHD

Extra Hvy

3

23 7/8

31

10

3

4-1/2

5,000

1996-2016

Ford E – Series; Rear E Super Duty & E-450

43-1339

Std

3

23 7/8

34 5/8

11

1-1/2

4-11/16

5,100

1996-2016

Ford E – Series; Rear E Super Duty & E-450

43-1339HD

Hvy

3

23 7/8

34 5/8

10

1-1/2

5

7,200

                                                          

FORD EXCURSION LEAF SPRINGS

Model Year(s)

Application

Spring No.

Std/Hvy Duty

Width

S.E. Length (A)

L.E. Length (B)

No. of Leaves

Arch (C)

Pack Thk. (D)

Spring Capty. at Pad (lbs)

2000-2006

Excursion (4WD)

43-1541

Std

3

25

33-1/14

7

5-5/8

3-3/16

2,275

2000-2006

Excursion (4WD)

43-1541HD

Hvy

3

25

33 1/4

9

5-5/8

3-9/16

3,000

2000-2006

Excursion (4WD)

43-1541SHD

Extra Hvy

3

25

33 1/4

10

5-5/8

4-7./16

4,500

                                                          

FORD RANGER LEAF SPRINGS

Model Year(s)

Application

Spring No.

Std/Hvy Duty

Width

S.E. Length (A)

L.E. Length (B)

No. of Leaves

Arch (C)

Pack Thk. (D)

Spring Capty. at Pad (lbs)

1986-2003

Ford Ranger; Rear

43-781

Std

2.5

25 5/8

31

4

5-1/4

1-5/8

1,250

1986-2003

Ford Ranger; Rear

43-781HD

Hvy

2.5

25 5/8

31

5

5-1/2

1-13/16

1,750

2004-2011

Ford Ranger; Rear

43-1503

Std

2.5

25 5/8

31

4

6-1/8

1-11/16

1,250

2004-2011

Ford Ranger; Rear

43-1503HD

Hvy

2.5

25 5/8

31

5

5-1/2

1-15/16

1,750

                                                          

FORD F-150 SERIES PICKUP LEAF SPRINGS

Model Year(s)

Application

Spring No.

Std/Hvy Duty

Width

S.E. Length (A)

L.E. Length (B)

No. of Leaves

Arch (C)

Pack Thk. (D)

Spring Capty. at Pad (lbs)

1986-1996

Ford F100 and F150 (2WD); Rear

43-711

Std

2.5

25   

31   

5

7-3/8

1-15/16

1,850

1986-1996

Ford F100 and F150 (2WD); Rear

43-711HD

Hvy

2.5

25   

31   

6

7-3/8

2-5/8

2,450

1980-1997

Ford F100 and F150 (4WD); Rear

43-713

Std

3   

25   

31 3/8

4

7

1-9/16

1,785

1980-1997

Ford F100 and F150 (4WD); Rear

43-713HD

Hvy

3   

25   

31 3/8

5

6-5/8

2

2,450

1997-2003

Ford F150 – Series; Rear

43-1199

Std

2.5

26 3/8

32 1/8

4

8-9/16

1-3/4

1,415

1997-2003

Ford F150 – Series; Rear

43-1199HD

Hvy

2.5

26 3/8

32 1/8

5

7-7/8

2-1/4

2,050

2004-2008

Ford F150 – Series; Rear

43-1555

Std

3

25 5/8

31 3/8

4

7-5/8

1-7/8

1,900

2004-2008

Ford F150 – Series; Rear

43-1555HD

Hvy

3

25 5/8

31 3/8

5

7-5/8

2-1/4

2,400

2009-2014

Ford 150 2WD and 4WD F-150 and F150 Raptor

43-1783

Std

3

31 5/8

31 5/8

3

7-7/8

2-1/8

1,500

2009-2014

Ford 150 2WD and 4WD F-150 and F150 Raptor

43-1783HD

Hvy

3

31 5/8

31 5/8

5

6-3/4

2-7/16

2,500

2014-2016

Ford 150 2WD and 4WD F-150 and F150 Raptor

43-1985

Std

3

28-1/2


31 5/8

4

6-5/8

2

1,900

2014-2016

Ford 150 2WD and 4WD F-150 and F150 Raptor

43-1985HD

Hvy

3

28-1/2


31 5/8

5

5-1/2

2-5/8

2,500

                                                          

FORD F SERIES PICKUP LEAF SPRINGS

Model Year(s)

Application

Spring No.

Std/Hvy Duty

Width

S.E. Length (A)

L.E. Length (B)

No. of Leaves

Arch (C)

Pack Thk. (D)

Spring Capty. at Pad (lbs)

1980-1997

Ford F – Series; F250 (4WD) and F350 (4WD) with Independent front axle suspension   Front Springs
43-498

Std

3   

23 7/8   

28 3/8

2

1-1/4

2

3,486

1980-1997

Ford F – Series; F250 (4WD) and F350 (4WD) with Independent front axle suspension   Front Springs
43-498HD

Hvy

3   

23 7/8   

28 3/8

3

1-1/4

2-7/8

4,100

1980-1997

Ford F – Series; Rear F250

43-695

Std

3   

25   

31 3/8

5

8-3/8

2

2,450

1980-1997

Ford F – Series; Rear F250

43-695HD

Hvy

3   

25   

31 3/8

7

8-3/8

2-5/8

3,100

1980-1997

Ford F – Series; Rear  F350 Pickup

43-701

Std

3   

25   

31 3/8

6

4-1/4

2-11/16

2,975

1980-1997

Ford F – Series; Rear  F350 Pickup

43-701HD

Hvy

3   

25   

31 3/8

7

4

3-1/2

4,295

1980-1997

Ford F350 DRW Chassis Cab; Rear

43-721

Std

2.25

26   

26

10

5-1/4

3-3/4

3,225

1980-1997

Ford F350 DRW Chassis Cab; Rear

43-721HD

Hvy

2.25

26   

26

12

4-3/4

4-13/16

4,500

1980-1997

Ford F350 DRW Chassis Cab; Rear Helper Spring

43-869

Std

2.25

20 3/4

20 3/4

4

5

1-3/16

800

1980-1997

Ford F350 DRW Chassis Cab; Rear Helper Spring

43-869HD

Hvy

2.25

20 3/4

20 3/4

5

4-1/2

1-5/8

1,250

1988-1997

Ford F Super Duty; Rear

43-901

Std

3

25 1/8

30 5/8

8

5-1/4

3-1/2

4,350

1988-1997

Ford F Super Duty; Rear

43-901HD

Hvy

3

25 1/8

30 5/8

8

5-1/4

4

5,750

1988-1997

Ford F Super Duty; Rear Helper Spring

43-903

Std

3

20 3/4

20 3/4

6

3-7/8

2-1/2

1,350

1988-1997

Ford F Super Duty; Rear Helper Spring

43-903HD

Hvy

3

20 3/4

20 3/4

5

3-7/8

2-5/16

2,000

                                                          

FORD F SERIES PICKUP LEAF SPRINGS

(Continued)

Model Year(s)

Application

Spring No.

Std/Hvy Duty

Width

S.E. Length (A)

L.E. Length (B)

No. of Leaves

Arch (C)

Pack Thk. (D)

Spring Capty. at Pad (lbs)

1999-2004

Ford F – Series; F250 F350(4WD) F450 F50 (2WD) & (4WD)  Front Springs
43-818

Std

3   

27 1/2   

28 1/8

2

4-7/8

1-5/16

2,630

1999-2004

Ford F – Series; F250 F350(4WD) F450 F50 (2WD) & (4WD)  Front Springs
43-818HD

Hvy

3   

27 1/2   

28 1/8

2

4-7/8

1-15/16

3,250

1999-2004

Ford F – Series; F250 F350(4WD) F450 F50 (2WD) & (4WD)  Front Springs
43-818XHD

Hvy

3   

27 1/2   

28 1/8

3

4-7/8

1-15/16

3,950

1999-2006

Ford Super Duty F250SD and F350SD Pickup; Single Rear Wheels Rear

43-1261

Std

3

25

33 1/4

5

7-7/8

2-1/8

3,000

1999-2006

Ford Super Duty F250SD and F350SD Pickup; Single Rear Wheels Rear

43-1261HD

Hvy

3

25

33 1/4

6

7-1/2

2-9/16

3,600

1999-2006

Ford Super Duty F250SD and F350SD Pickup; Dual Rear Wheels;  Rear

43-1263

Std

3

25

33 1/4

5

8-3/16

2-1/4

3,000

1999-2006

Ford Super Duty F250SD and F350SD Pickup; Dual Rear Wheels;  Rear

43-1263HD

Hvy

3

25

33 1/4

7

7

3-1/4

4,400

1999-2007

Ford F250SD and F350SD 2WD & 4WD

Chassis Cab

; Rear
43-1265

Std

3

25-1/2

30 1/4

11

5-3/8

3-7/8

3,625

1999-2007

Ford F250SD and F350SD 2WD & 4WD

Chassis Cab

; Rear
43-1265HD

Hvy

3

25-1/2

30 1/4

10

5-3/8

4-1/2

5,400

1999-2006

Ford Super Duty F450SD and F550SD; Rear

43-1289

Std

3

25

30 3/4

10

5-1/8

4-3/8

5,900

1999-2006

Ford Super Duty F450SD and F550SD; Rear

43-1289HD

Hvy

3

25

30 3/4

10

5-1/8

5-5/16

8,000

1999-2006

Ford Super Duty F450SD and F550SD; Rear 

1330-193

Extra Hvy

3

25

30 3/4

10

5-1/18

6-3/4

10,000

2006-2012

Ford Super Duty F450SD and F550SD; Rear.  These springs have a 1/2″ center bolt with a 3/4″ diameter head

43-1747

Std

3

25

30 3/4

10

5-1/2

4-7/16

5,900

2006-2012

Ford Super Duty F450SD and F550SD; Rear.  These springs have a 1/2″ center bolt with a 3/4″ diameter head

43-1747HD

Hvy

3

25

30 3/4

10

5-1/8

5-5/16

8,000

2008-2016

Ford 250, F350, F450 2WD and 4WD Except with helper; Two stage

43-1681

Std

3

33-3/16

33-3/16

5

6

3

3,000

2008-2016

Ford 250, F350, F450 2WD and 4WD Except with helper; Two stage

43-1681HD

Hvy

3

33-3/16

33-3/16

6

5-3/4

3-5/16

4,400

2008-2016

Ford 250, F350, F450 2WD and 4WD Except with helper; Two stage

43-1717

Std

3

33-3/16

33-3/16

3

6

2-5/16

3,700

2008-2016

Ford 250, F350, F450 2WD and 4WD Except with helper; Two stage

43-1717HD

Hvy

3

33-3/16

33-3/16

6

5-3/4

3-13/16

6,800

2008-2016

Ford 250, F350 2WD and 4WD Single or dual rear wheels Chassis Cabs  Note that for 2008-12; Pickups use 66″ springs, chassis cabs use 56″ springs

43-1699

Std

3

25-1/2

30-1/4

11

4-5/8

4-1/8

3,625

2008-2016

Ford 250, F350 2WD and 4WD Single or dual rear wheels Chassis Cabs  Note that for 2008-12; Pickups use 66″ springs, chassis cabs use 56″ springs

43-1699HD

Hvy

3

25-1/2

30-1/4

10

5-3/8

4-1/2

5,400

 

Toyota

                                                          

TOYOTA TACOMA PICKUP LEAF SPRINGS

Model Year(s)

Application

Spring No.

Std/Hvy Duty

Width

S.E. Length (A)

L.E. Length (B)

No. of Leaves

Arch (C)

Pack Thk. (D)

Spring Capty. at Pad (lbs)

1995-1997

Tacoma (4WD)

90-173

Std

2-3/8

22-1/2

28-5/8

4

5-5/8

1-7/16

 

1995-1997

Tacoma (4WD)

90-173HD

Hvy

2-3/8

22-1/2

28-5/8

4

5-5/8

1-9/16

 

1998-2000

Tacoma (2WD & 4WD)

90-203

Std

2-3/8

22-1/2

28-5/8

4

6-3/4

1-9/16

 

1998-2000

Tacoma (2WD & 4WD)

90-203HD

Hvy

2-3/8

22-1/2

28-5/8

4

6-3/4

1-7/8