Heavy Duty Coil Truck and Van Springs | Tuftruck Super Duty Coils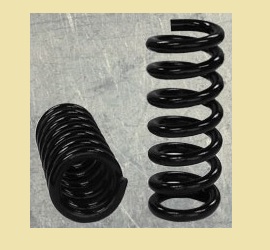 SUPER DUTY  COIL SPRINGS   We offer Dayton Parts heavy duty coil springs and Tuftruck (TTC) heavy duty coils.   The Tuftruck (TTC) brand coils are an ideal solution to under-sprung or sagged front ends on domestic light trucks and vans.  Whether you're adding a snowplow or a heavy-duty bumper with winch, a Tuftruck (TTC) coil spring is an excellent solution.
Heavy Duty Coil Springs are custom designed to give you additional load handling capability per pair with a maximum of ½ inch increase in ride height at zero additional load.  These HD Springs are the only practical helper spring alternative when shock absorbers are mounted inside the coil spring and are an excellent choice for vehicles equipped with diesel engines or snow plows. HD Coil Springs also require no maintenance making them an excellent load handling solution for fleet vehicles, pickups, vans and motorhomes. Super Duty Coil Springs improve the handling and ride quality of heavily loaded vehicles, thereby reducing driver fatigue and increasing safety and efficiency.
High Quality Replacement coil springs for Auto, Trucks, Vans.  To Order rear or front coil springs for your vehicle:
Benefits   Additional Load Handling Capability   Improves Handling & Ride quality   Maintenance Free   Reduces Driver Fatigue   Ideal for Motorhomes, Plows, and Diesel Vehicles
   ANY QUESTIONS, PLEASE USE OUR CONTACT FORM
 APPLICATIONS:
Click the part number to find pricing, shipping costs, and to order online.
Chevrolet & GMC Truck Heavy Duty Coil Springs
Model
Year
Part No
Rated Load Per Coil
Replacement Coil Part No.
C30/3500, R30/3500 (Old Body Style Only) Front Coil Springs
1973-91



350-6560SD 

3789
350-6560
C30/3500, R30/3500 (Old Body Style Only)  Front Coil Springs
1973-91



350-6560 

3289
350-6454
P.U. C20/25  Heavy Duty Front Coil Springs
1973-87



TTC-5415

5700
P.U. C30/35  Extra Heavy Duty Front Coil Springs
1973-87



TTC-5416

7200
C3500 (New Body Style Only) except diesel & 7.4L  Front Coil Springs
1988-00



351-650SD 

2670
351-650
C3500 (New Body Style Only) Extra Super Duty Front Coil Springs
1988-00



350-5716SD 

3250
350-5716
P.U. C20/25 Front Coil Springs
1988-98



TTC-1615

3700
P.U. C30/35 Front Coil Springs
1988-98



TTC-1616

4800
G30/3500  Front Coil Springs
1973-95
 


350-6560SD 

3789
350-6560
G30/3500 Front Coil Springs
1973-95



350-6560 

3289
350-6454
Van G20/25 Front Coil Springs
1973-95



TTC-5415

5700
Van G30/35 Front Coil Springs
1973-95



TTC-5416

7200
G30/3500 Classic  Front Coil Springs
1996
  


350-6560SD

3789
350-6560
G30/3500 Savana & Express  Front Coil Springs
1996-00



350-1205SD 

4080
—
Van G30/35 Front Coil Springs
1996-02



TTC-1615

3700
Van G30/35 – Extra Heavy Duty Front Coil Springs
1996-02



TTC-1616

4800
Van G30/35 Gas Engine Panel Van Front Coil Springs
2003-15



TTC-1619

5000
Van 3500 Parcel Van Front Coil Springs
2003-12



TTC-1618

5000
Van G30/35/45 Duramax Diesel Cab & Chassis  1-12″-2″ lift Front Coil Springs
2003-15



TTC-1617

5000
not suited for City/Mini Buses
Van G30/35/45 Duramax Diesel Cab & Chassis  1-12″-2″ lift Front Coil Springs (incl. Heavy Duty Shocks & Bump Stops
2003-15



TTC-1617A

5000
not suited for City/Mini Buses
P30/3500 Front Coil Springs
1973-05



350-6560 

3289
350-6454
P30/3500 Front Coil Springs
1973-05



350-6560SD 

3789
350-6560
P30/3500 Greater Than 28 ft. Motorhomes Front Coil Springs
1973-05



350-6560SDM 

4289
—
Dodge Truck Heavy Duty Coil Springs
Model
Year
Part No.
Rated Load Per Coil
Replacement Coil Part No.
B300/350 8200 and 9000 lbs. GVW Front Coil Springs
1978



350-7226SD 

2225
350-7226, 7270, 7272
B300/350 All Front Coil Springs
1971-1977



350-7172SD

 
2025
350-7170, 7172
B300/350 All Front Coil Springs
1979-2000



350-7226SD 

2225
350-7226, 7270, 7272
B300/350 Except 8200 and 9000 lbs. GVW Front Coil Springs
1978



350-7172SD

  
2025
350-7170, 7172
CB300/400, MB300/400 Commercial and Motorhome Chassis Front Coil Springs
1979-1981



350-7226SD

2225
350-7226, 7270, 7272
D300/350 Except 3800 and 4000 lbs GAWR Front, (H8) Front Coil Springs
1971-1993



350-7172SD

 
2025
350-7172
D300/350 w/3800 and 4000 lbs GAWR Front, (H8) Front Coil Springs
1971-1993



350-7226SD 

 
2225
350-7226
D350 w/Diesel Engine Front Coil Springs
1989-1993



350-5716SD 

3250
350-5716
D250/350 2WD Front Coil Springs
1973-1993



TTC-7215

3500
—
Ram Pickup 1500 4WD Front Coil Springs
1994-2001



350-1202SD 

1770
—
Ram Pickup 2500HD (8,800 GVW and greater), 3500 2WD w/IFS Front Coil Springs
1994-2001



350-1204SD

 
3380
—
Ram Pickup 2500HD (8,800 GVW and greater), 3500 4WD & 2WD w/solid frt axle  Front Coil Springs
1994-2001



350-1203SD

2354
—
D2500/3500 2WD Regular Cab Gas Engine Front Coil Springs
1994-2012



TTC-9615

Heavy Duty
—
D2500/3500 2WD Reg/Crew/Mega Cab Diesel Engine   1″-3″ lift   Heavy Duty Front Coil Springs
1994-2013



TTC-1615

Heavy Duty
—
D2500/3500 2WD Reg/Crew/Mega Cab Diesel Engine   1″-3″ lift  Extra Heavy Duty Front Coil Springs
1994-2013



TTC-1616

Extra Heavy Duty
—
D2500/3500 4WD  2″-2-1/2″ lift Std Duty Front Coil Springs
1994-2013



TTC-1213

Standard Duty 2-1/2″ Lift
—
R2500/3500 4WD   Heavy Duty  Front Coil Springs
1994-2013



TTC-1217

    Heavy Duty
—
R2500/3500 4WD 2-1/2″ Front Leveling Coil Kit Heavy Duty  Front Coil Springs
1994-2013



TTC-1216

    Heavy Duty  2-1/2″ Lift
—
R2500/3500 4WD 2-1/2″ Front Leveling Coil Kit Heavy Duty   Variable Rate Front Coil Springs
1994-2013



TTC-1216V

    Heavy Duty  2-1/2″ Lift
—
2500 and/or 3500 4WD  Front Coil Springs
2014-2016



TTC-1224

Heavy Duty  2-1/2″ Lift
—
2500 2WD & 4WD  Front Coil Springs
2014-2016



TTC-1225

Heavy Duty
—
D4500/5500 2WD/4WD  Rear Coil Springs
2007-2016



TTC-1215

Heavy Duty
—
Ram Pickup 1500 2WD/4WD – Variable Rate Heavy Duty Rear Coil Springs at Stock Ride Height
2009-2015
TTC-1223V
—
Ram Pickup 1500 2WD/4WD – Rear Coils Rated at 25% increased Cargo Capacity
2009-2015



TTC-1210

+25%
—
Ram Pickup 1500 2WD/4WD – Rear Coil Springs– Rated at 50% increased Cargo Capacity
2009-2015



TTC-1223

+50%
—
Ram Pickup 1500 2WD/4WD – Rear Coils 2″ Drop ; includes KYB shocks (Ext & Quad Cab Only; not for regular cab or shortbed RT
2009-2015



TTC-1210L

(with KYB Shocks)
10% + 2″ Drop
Ford Truck Heavy Duty Coil Springs
Model
Year
Part No.
Rated Load Per Coil
Replacement Coil Part No.
E350 Front Coil Springs
1975-1991



351-860SD 

3427
351-860
E350 Front Coil Springs
1992-2012



350-1200SD




 

3006
—
E250/E350  Heavy Duty Front Coil Springs
1992-2016



TTC-2814

3935
—
E450   Extra Heavy Duty Front Coil Springs
1992-2016



TTC-2815

5000
—
F150 and Bronco Except Dual Shock
1980-1996



351-824SD

 
2309
351-820, 822,


351-824 

F250/F350 2WD   Heavy Duty Front Coil Springs
1980-1998



TTC-2814

3935
—
F250/F350 2WD Extra Heavy Duty Front Coil Springs
1980-1998



TTC-2815

5000
—
F250/F350 Super Duty 2WD Front Coil Springs
1999-2016



TTC-2814

3935
—
F450/F550 Super Duty 2WD  Extra Heavy Duty Front Coil Springs
1992-2016



TTC-2829

5000
—
F250 4×4 Spring Code E/T 2600 lbs Front Coil Springs
2005-2008



350-1206SD

3100
—
F250 and F350 4×4 Spg Code C 3000lbs Front Coil Springs
2005-2008



350-1208SD 

3500
—
F350 4×4 Spring Code D 2800lbs Front Coil Springs
2005-2008



350-1207SD 




 

3300
 —
F350 Front Coil Springs
1980-1999



351-844SD 

2312



351-844

F250/350 SD 4×4  2″-2-1/2″ Lift Front Coil Springs
2005-2016



TTC-2813

3750
+2-1/2″ lift
 —
F350/450/550 SD 4×4  1″ Lift Front Coil Springs
2005-2016



TTC-2829

5060
+1″ lift
 —
F350/450/550 SD 4×4  2″-2-1/2″ Lift Front Coil Springs  (Good for snowplows, winches, bumpers & freight trucks)
2005-2016



TTC-2816

7700
+2-1/2″ lift
 —
Note: Heavy Duty front coil springs as listed are recommended for use in vehicles used in continuous heavy hauling conditions. Lightly loaded vehicles equipped with Super Duty front coil springs may experience alignment and handling difficulties.
[table "HDCoilSprings" not found /]