Steel Replacement Springs for
Astro and Safari Vans
No Vehicle
Modifications Required – Simple One Hour
Installation
4000 Lbs. Capacity*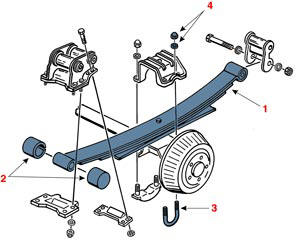 Installation Kit (one kit does both sides) contains all necessary hardware for complete installation.

Fits 1995 and older Astro & Safari vans with composite rear springs only.
Note: Springs must be installed in pairs.
Caution: Never exceed the manufacturer's suggested GVWR.   * As measured at ground, includes weight of axle, tires, and wheels.
To order or find out pricing, click on the picture.